Sequester
From HtownWiki
Sequester began in late 1997, the very first group formed by R William Murphy and Dan Duran. Initially the line up was completed by Ashleigh (drums) and Mary (bass) who was soon replaced by Spider.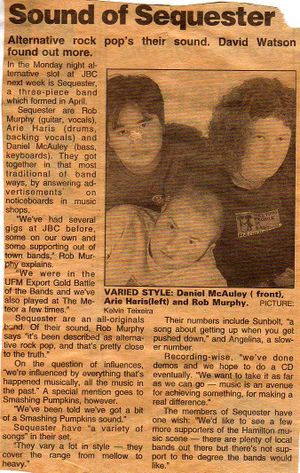 This particular line up didn't perform in public, but once Ashleigh was replaced with Arie Harris, things moved quickly, and the band played their first ever gig at JBCs in March 1998.
By the time of the band's third gig, they had a set of over twenty songs, due to the prolific writing partnership (as well as solo offerings) from Rob and Dan. Cracks began to show though, as their writing styles were pulling in different directions; as a result Dan Duran left the group in mid 1998.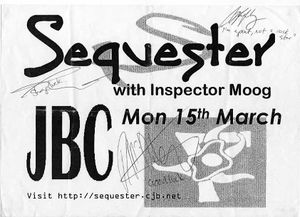 The remaining three forged a new, harder sound, based around Rob's Smashing Pumpkins/Tool kind of material. Over the next couple of years, their sound fluctuated between epic and tight, raucous and commercial.
In 2000, Seth joined the band as a second guitarist, but it wasn't to last much longer. Rob disbanded the group in 2001 and moved to Wellington. He returned in 2002 and formed Big Elephants, with Sequester drummer Arie and former Sequester guitarist Dan Duran on bass.
There are Sequester recordings around, but they are hard to come by. The group recorded approximately nine songs with future 48may guitarist Captain Hook, for which one song, Numb, a video was shot (by Dan Duran). In 2000, the group recorded an as yet unreleased four track EP with Dan Howard, for which another video was shot - Live Without Me.
Spider went on to form Deceitful Existence, which Rob later joined, on guitar.
Members
[
edit
]
R William Murphy - guitar, vocals (1997 - 2001)
Daniel McAuley (a.k.a. Spider) - bass guitar, keyboards (1997 - 2001)
Seth - guitar, slide guitar (2000 - 2001)
Arie Harris - drums (1998 - 2001)
Dan Duran - guitar (1997 - 1998)
Ashleigh - drums (1997)
Mary - bass guitar (1997)
Music videos
[
edit
]