Romantic Andes
From HtownWiki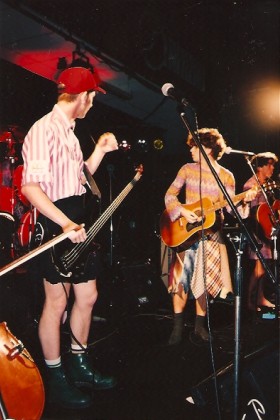 A very popular local live band in the early 1990s, the Romantic Andes met at the University of Waikato's Bryant Hall, initially calling themselves Giant Jack and the Codpieces. The band went through a number of lineup changes over several years.
A popular early recording, Anaconda Funky Limbo, appeared on the 1993 compilation Discordia Concors (with their name misspelt "Romantic Andies"), featuring the popular sing-along lyrics "Bob Marley used to sing this song". The lineup at this time comprised Dylan Parry (vocals, jewish harp, percussion), John Worsley (acoustic guitar, vocals, percussion, toilet), Brendan White (acoustic bass, backing vocals), Hayden Biglow (cello, backing vocals), Dan Hodgkinson (drums) and Demelza Locke (backing vocals, percussion). They had three additional Contact live-to-air recordings released at the same time on the Inside the Wireless compilation. The band won the Contact 89FM busking competition in 1993, winning the chance to support the Muttonbirds, but were unable to attend (MSU took their place). Their first major gig was instead supporting Jan Hellriegel, and they were the major drawcard to the Hamapalooza gig in 1993.
The band won the Contact Battle of the Bands in 1994, wearing drag. In September that year they released an album titled To Understand the Animals with a performance at the Wailing Bongo. By this time the lineup had evolved to John Worsley, Dylan Parry, Hayden Biglow, Mike Clarkin (drums) and Tim Hansen (bass). Crowd favourites included "Half a World Away", "Happy Hug Song", and "Tiny Tom".
They released a final EP, Rocket, under the name The Andes before disbanding (see separate article for more detail). On this recording the lineup was John Worsley, Dylan Parry, Chris Wyborn (bass), Luke Murray (drums) and Hayden Biglow. John briefly had a side project in 1993 called Twitch featuring members of Death of a Monkey.
Releases
[
edit
]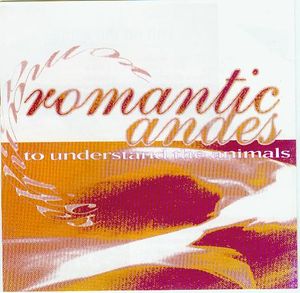 Published Articles
[
edit
]