Regime
From HtownWiki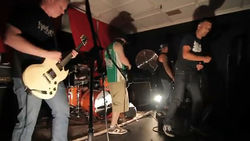 Regime were a five piece hardcore/punk band formed in mid 2011 to 2013. They played oldskool fast hardcore New York style, and performed around Hamilton with members jamming whenever free time was available.
Regime recorded a 4 track demo with Hamilton gigging muso Anthony Fitzgearald; this was recorded on one Monday night for a few boxes of beer, and was all live recorded because everyone had limited time. The cover art work was a photo from a big Graf "REGIME" in West Auckland by Garreth Steiner (ex-Arkane). All four songs were written by Nick Cullen, but he soon left to travel overseas.
Regime also opened for American bands "Terror" and "Trapped Under Ice" in 2012 at The Void on Victoria Street.
All members had been been involved in Hamilton's hardcore scene for a number of years.
Members
[
edit
]
Ryan Jordan - vocals (ex-21 Guns, Ryan and the Rockets)
Izzy McDean - drums (also in Antagonist)
Mikey Shields - bass, then guitar (ex-Cry Wolf)
Hikalu Clarke - bass (ex-Reality Check, Palmerston North)
Nick Cullen - guitar (2011-2012)
External Links
[
edit
]