Katchafire
From HtownWiki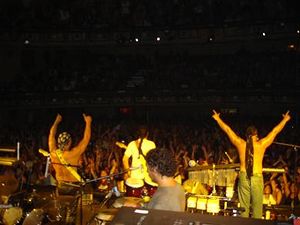 Katchafire are a Hamilton reggae band who have gained commercial success. Katchafire formed in 1997 as a Bob Marley tribute band, and later began writing and performing their own songs. Their debut 2003 album, Revival, sold over 30,000 copies (double platinum) and included the hit Giddy Up, the biggest selling New Zealand single of 2002 (which they received a Tui for). Revival debuted on Billboard's Top World Music Albums Chart at #5 in March 2006.
In late 2005 their two albums (Revival and 2004's Slow Burning) were packaged together and released as Double Pack, with artwork reminiscent of an old Zig-Zag cigarette papers pack. Retailing at about the same price as each album did individually, the Double Pack was also a massive hit, though deleted quickly. They released their third album, Say What You're Thinking, in 2007, which spent 28 weeks on the new Zealand charts, peaking at number 5. Their 2010 album On the Road Again peaked at number 3 on the New Zealand charts, and spent 25 weeks on the charts in total. In 2013 they toured Hawaii, and the mainland USA, following the release of their best-of Best so Far album, which peaked at number 4 on Billboard magazine's reggae charts.
The band have opened shows for Michael Franti and Spearhead, performed gigs across the country (three in one day on Waitangi Day 2004, in Hamilton, Manukau and Nelson), three tours to Australia and New Caledonia, and a stadium-filling headlining show in Fiji. They took their name from the Bob Marley and The Wailers album Catch A Fire.
Members
[
edit
]
Tere Ngarua - bass
Jordan Bell - drums
Jamey Ferguson - keyboards, saxophone, vocals
Haani Totorewa - keyboards, guitar, vocals
Logan Bell - guitar, vocals
Grenville Bell - lead guitar
Leon Keelan Davey - percussion, harmonica, vocals
Former Members
[
edit
]
Ara Adams-Tamatea - bass, band manager
Thompson Hohepa - rhythm guitar, vocals
Releases
[
edit
]

Commercially Released Compilations
Bounce appears on the 2002 album Simply the Best Reggae Album
Giddyup appears on the 2003 compilation Top Of The Pops 2003 Vol. 3
Giddyup appears on the 2003 compilation Barbie Slumber Party Mix Vol 2
Get Away appears on the 2003 compilation Off The Hook 3
Collie Herb Man and Giddyup appear on the 2004 compilation The Reggae Collection
Get Away appears on the 2004 compilation Conscious Roots
Bounce appears on the 2004 compilation Playlist
Bounce appears on the 2004 compilation Hot Wheels
Frisk Me Down appears on the 2005 compilation Conscious Roots 2
Giddy Up appears on the 2006 compilation More Nature
I N I appears on the 2006 compilation Conscious Roots 3
Lose Your Power appears on the 2006 compilation Nuclear Free Nation 1987-2007
Bounce appears on the 2007 compilation All Blacks: The Music
This World appears on the 2007 compilation Conscious Roots 4
Love Letter and Say What You're Thinking appear on the 2008 compilation Raggamuffin
Doesn't Anybody appears on the 2008 compilation Conscious Roots 5
Collie Herb Man (Joost Langveld & Roger Perry Reactor Dub) appears on the 2011 compilation Dub Zealand
Frisk Me Down and Lead Us appear on the 2012 compilation The Best Of Conscious Roots

Promotional Compilations
Giddy Up appears on the 2002 promo compilation Kiwi Hit Disc 54
Who You With appears on the 2002 promo compilation Kiwi Hit Disc 57
Giddyup appears on the 2003 promo compilation The Tuis New Zealand Music Awards, 2003
Get Away appears on the 2003 promo compilation Kiwi Hit Disc 60
Colour Me Life appears on the 2003 promo compilation Kiwi Hit Disc 62
Bounce appears on the 2004 promo compilation Kiwi Hit Disc 64
Seriously appears on the 2004 promo compilation Kiwi Hit Disc 67
Rude Girl appears on the 2004 promo compilation Kiwi Hit Disc 69
Close Your Eyes appears on the 2005 promo compilation Kiwi Hit Disc 72
Hey Girl appears on the 2005 promo compilation Kiwi Hit Disc 78
Collie Herb Man remix appears on the 2006 promo compilation Kiwi Hit Disc 84
Frisk Me Down appears on the 2006 promo compilation Kiwi Hit Disc 89
Say What You're Thinking appears on the 2007 promo compilation Kiwi Hit Disc 97
Love Letter appears on the 2008 promo CD Kiwi Hit Disc 102
Working appears on the 2009 promo CD Kiwi Hit Disc 118
J Dubb (Remix) appears on the 2010 promo CD Kiwi Hit Disc 124
One the Road Again appears on the 2010 promo CD Kiwi Hit Disc 130
Groove Again appears on the 2010 promo CD Kiwi Hit Disc 133
Sweet As appears on the 2011 promo CD Kiwi Hit Disc 135
Lead Us appears on the 2011 promo CD Kiwi Hit Disc 138

Published Articles
[
edit
]
External Links
[
edit
]