Jah'na
From HtownWiki
Jhana (1997 - 1999)
[
edit
]
J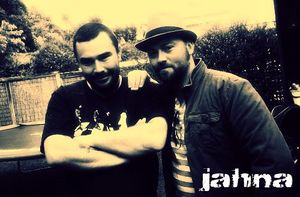 hana was formed in 1997 after an advert was placed on
Contact
seeking a guitarist/vocalist to form an acoustic duo.
Mark Tupuhi
and
Pete Fountain
originally intended to begin an acoustic covers act, but soon began focusing on original tracks.
A rhythm section comprising Bevan Galbraith on bass, and drummer Brendan Drummond was added to form the core of the initial band from '97 - '99. Recording with the newly founded Click Sound (then run out of Daniel Howard's house just out of Hillcrest), the first single Shelter was released, and the band supported Bic Runga on the Drive Tour with Rumpus Room in Hamilton.

A number of attempts to record a studio album were unsuccessful, however, several recordings existed from Rex's Studio in Tramway Road along with a couple of quality live recordings; one engineered by Zed Brookes and Brad Morgan, and another recorded by Dan Howard. From these out-takes the self titled Jhana album was compiled and released in 1998 featuring hand-made cardboard covers. The release party at JBCs was supported by Handsome Geoffrey and the Grinners.

Jah'na (1999 - 2001)
[
edit
]
In 1999 Galbraith and Drummond were replaced by Tamati Meredith from Boneyard on drums and Eamon Leatherby on bass. Noteworthy performances from 1999-2001 ranged from opening the 1999 Edge Summer Jam concert in Hamilton, making the finals in the Band Experiments 2001, performing at Auckland's Pacifica Festival, and appearing on TVNZ's Good Morning and Mai Time shows.
The second release Acoustic Pop surfaced as a very short run in 2001 after the second rhythm section had also been dismissed. Acoustic Pop featured songs by Tupuhi and Fountain stripped back to the original vision of an acoustic duo, captured by producer Graeme Rogerson. The recordings resurfaced the following year as St Lucy's debut release Why We Hate Decaff (and assorted tales) EP. Mark went on to create his stage persona as St Lucy, and Pete went on to a solo career as Pete Fountain. The two continue to play together every now and then as Pete Fountain and St Lucy.
Releases
[
edit
]
External Links
[
edit
]