Cambridge Road Guy Fawkes Party
From HtownWiki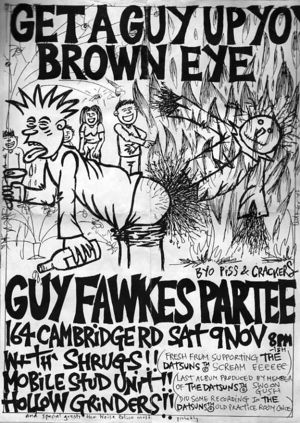 Annual house party held at Dr Ezy's on the weekend closest to Guy Fawkes (November 5th). The party traditionally involved a fireworks display and the burning of promotional movie ephemera as effigies, bands in the lounge, a visit from noise control, candid photo opportunities, and sex attempts in the bathroom.
Bands which played the party on a regular basis include MSU, the Shrugs and the Hollow Grinders.
Dr Ezy and co. vacated the house in 2006, and therefore the venerable old tradition of the Cambridge Road Guy Fawkes Party came, as all good things must, to a sad, but dignified, halt.