Band Rotunda
From HtownWiki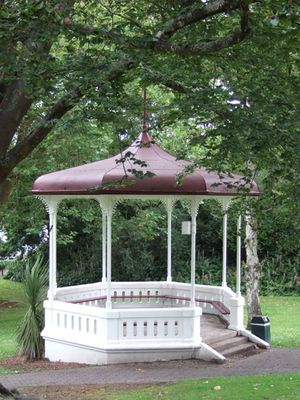 The need for a band rotunda in Hamilton was mooted as early as 1907; following a performance by the Hamilton Municipal Band at 'The Lake Reserve', the Waikato Argus reported on "the necessity for a rotunda, or something of the sort" as, on account of the gusty nature of the weather, band members were "having to hold the music with one hand and play with the other". In 1912, C.J.W. Barton, running for mayor, put forward a proposal to erect a band rotunda in Garden Place if elected; a point repeated by the Hamilton Beautification Society the following year. Pressure was put on the Hamilton Borough Council by the 16th (Waikato) Regimental Band, "in view of the fact that the band of this regiment will shortly be in possession of the finest set of instruments in the Dominion". Soon after, the Beautifying Society endorsed suggestions that a bandstand being constructed on Ferrybank.
Built in 1916 of cast iron and kauri, the Hamilton Band Rotunda was constructed at Ferrybank, located between Grantham, Victoria and Bridge Streets. It was constructed at this site following persuasion by the Hamilton Beautifying Society, as the area was considered at the time to be unattractive. For a number of years it would have hosted performances by brass bands, particularly on Sunday afternoons. Early performances were by the Frankton Municipal Band on 24 September 1916 and the 16th (Waikato) Regimental Band on 15 October 1916. Both were well attended. Other early users were the Hamilton Municipal Band and the Matangi Maori Band.
In more recent years, the rotunda has been the host of occasional gigs, including by the Good Fun, Der Kranks (January 2011), Sora Shima, Dick Dynamite and the Doppelgängers (February 2011), and Matthew Bannister and Gian Perrone (March 2013).
The structure is classed by the Historic Places Trust as a category II building, and in the Hamilton District plan as having an A rating (i.e., of highly significant heritage value to Hamilton). It was constructed by C.L. Lowe, at a cost of £362 10s. The trees in the area were planted by the Hamilton Beautifying Society in the 1910s.
References
[
edit
]
Architrek: A Walk Through Hamilton's Historic Southend. City of Hamilton Pamphlet, 1995.
See Also
[
edit
]