5 Girls
From HtownWiki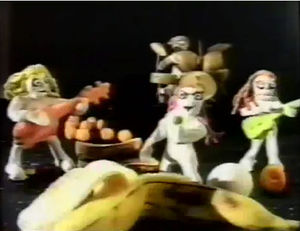 5 Girls are an all girls rock band, formed in 1993 and initially active through to 1997. The band originally featured Renee Dawson (vocals), Amy Lomas (bass, backing vocals), Vicki Pollard (guitar, backing vocals), Katrina Batt (drums, backing vocals) and Jenny Andrews (vocals), formed by friends from Hamilton Girls High.

They produced two tapes, Fingered (with the catchphrase "Get Fingered by 5 Girls") and ITN (= 'In The Nude'). Andrews left following the recording of Fingered, with the band continuing as a four-piece. The band were best known for their song (and Greg Page produced video), Food. With the band taking on a more hard-core sound, Renee Dawson left the band and went on to Loose New Romans.
After Vicki Greetis (nee Pollard) was asked to play at a girl's night performance, the band reformed for a reunion gig in November 2016 at the Wintec End of Year Party gig. The band have continued to gig since this time, including supporting Japanese band Shonen Knife at Nivara Lounge in 2017 and Australia's The Hard Ons in Raglan in 2018. Following reformation, the band played as both a 3-piece (minus Dawson), playing primarily their older noisier songs, and as a 4-piece, playing newer countryish-tinged songs, though soon became exclusively a 3-piece. The band is now based in Raglan. In December 2018, they released the EP Basement Tape.
Releases
[
edit
]
External Links
[
edit
]
Published Articles
[
edit
]